Discover Our Wide Range Of Internal & External Blinds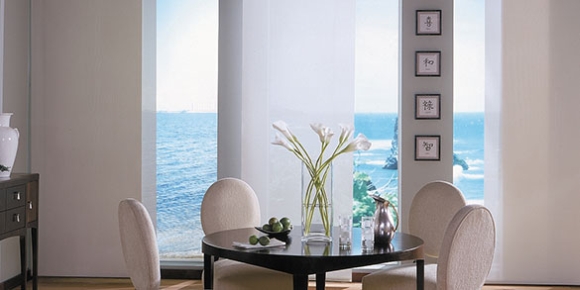 Internal Blinds
Panel Glides
Roller Blinds
Roman Blinds
Slimline Venetians
Timber & Wood-Look Venetians
Vertical Blinds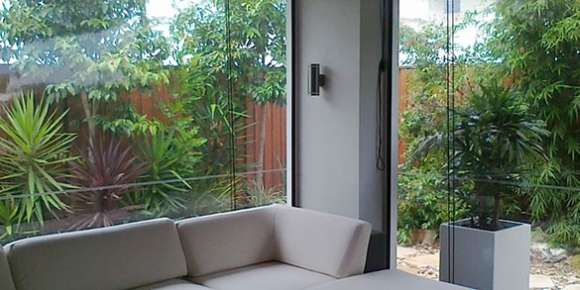 External Blinds
Clear & Tinted PVC
Verandah Blinds
External Roller Blinds
Vertiscreens
Sunscreen Blinds
Total Blockout Blinds
Internal Blinds Range
PANEL GLIDES
Panel Glides clearly have the wow factor. Modern, versatile and strikingly different they are fabulous in wide open spaces, with a smooth and effortless operating system.
The fabric panels glide easily making them the perfect choice for large glazed areas, sliding and bi-fold doors and even as room dividers.
Panel glides can be matched to complement Roman and Roller blinds, giving an elegant harmonised look throughout any interior.
ROLLER BLINDS
Roller blinds are a practical, affordable and efficient shading solution. Whether it's privacy or shade that you desire, we have the right roller blinds for your home. Roller Blinds are great for heat and light protection and are available in a selection of weaves and textures, including sheers, opaques and sunscreens. We have a vast range of colours to choose from, all made to measure and professionally fitted, The stunning versatility of our fabric collection will add glamour to any interior and Roller Blinds can complement Panel Glides and Roman Blinds to give a unified look to interiors.
State of the art cutting technology. Faber Ultrasonic and Aeronaut Elektron Quattro cutting tables are used to prevent fraying and eliminate the need for side hems, to create a cleaner superior finish.
The linked roller blind bracketing system is perfect for bi-fold and sliding doors and wide span windows, allowing multiple blinds to be linked together and neatly operated by either one or two chain control systems, thus reducing the gaps between blinds and dramatically improving both privacy and light. To increase the efficiency of dealing with glare and privacy select the dual fixing bracket system to allow for the installation and neat fit of two blinds (eg: translucent and blockout) to easily operate on one window.
Motorised Roller Blinds are also available. We use Somfy Automation which also comes with their 5 Year Guarantee.
SLIMLINE VENETIANS
Traditional Venetian blinds can compliment any room. Independent Blinds & Awnings supply made to measure Slimline Venetian blinds in a variety of materials and finishes, from warm, natural wood to sleek, modern metal, we have the venetian blind for you.
Venetian blinds offer you complete control over the amount of light you allow into your room, as well as giving you privacy when required. Our range of aluminium Venetian blinds is available in 25mm, and 50mm slat widths and can be manufactured to suit any drop.
TIMBER & WOOD-LOOK
The warmth and beauty of natural timber makes timber and wood-look venetian a very popular choice.
This extensive range includes the natural timbers of Western Red Cedar and through to the very popular Woodlook Collection.
Beautifully compliment any décor in a variety of finishes and colours from the rich warm colours of timber to the cool crisp whites and timber looks of the Woodlook range.
ROMAN BLINDS
Select from Plantation Style with timber pelmet and batten treatments, the simple Classic style with aluminium battens (back extrusions) and Fabric or Linea Pelmet or our new Mode style with sleek modern lines and co-ordinated pelmet.
Roman Blinds create a stunning versatility adding glamour to many interior looks.
Coordinate with Panel Glides, Roller Blinds and Vertical Drapes.
Roman Blinds are also included in the Motorised range.
VERTICAL BLINDS
The blades emulate soft draperies; drawn like a curtain the blades are then rotated to provide light control and privacy in a simple operation.
Vertical Blinds can be matched to your roller blinds and other blind selections, resulting in an elegant flow through effect in open plan living areas.
Vertical Blinds are available in 2 styles: Fabric and New Generation.
External Blinds Range
VERANDAH BLINDS
Clear PVC Patio Blinds enable you to use your outdoor spaces, especially patio areas, in cooler or inclement weather.
Fully welded with seams for added strength, clear plastic blinds can be installed with or without a hood. They can be hand rolled, winch or motor operated.Tinting is available as well as clear.
Only the highest Grade PVC is used in our verandah blinds. Marine grade zips and vinyl borders which are available in a wide range of colours.
Create another room on your verandah with the verandah blinds to extend your outdoor areas with the flexibility being able to have them open for sunny days or close them to keep out rainy weather.
We are able to solve the most difficult of problems where a blind is needed or fill in panels to complete the enclosed area.
EXTERNAL ROLLER BLINDS
External roller blinds provide a high degree of protection against solar heat and glare while retaining visual clarity.
These vertical hanging blinds use a 3mm diameter stainless steel wire guided system that can be motorised.
They help protect your home against overheating, glare and fading yet allow plenty of sunshine when retracted in winter.
VERTISCREENS
Vertiscreen is an exterior vertical blind sun protection system from Europe, with a modern slim-line look. Easily and discreetly fitted to an existing home or commcercial building, Vertiscreen can also be installed inside a reveal during construction, thus totally hiding the components from view.
Its compact profile includes a neat 95mm x 95mm or 125mm x 125mm aluminium head box; elliptical square bottom rail with either wire guides or side channels, which can be powdercoated to any colour required. An important contributor to Vertiscreen's energy efficient design is the narrow gap between glass and fabric, similar in principle to a roller shutter.
Depending on the fabric chosen, some of the benefits achieved with Vertiscreen will be improved insulation from heat gain and loss, UV shielding and reduction of glare. An opaque fabric can be used to create total blockout, while a sheer fabric can offer sun protection, without losing your view.
Options for Vertiscreen are manual operation with a gearbox or fully automatic operation using our Tubular Drive Motors. Motorisation further allows group control over a number of windows simultaneously or individually, timer function and climate sensor.